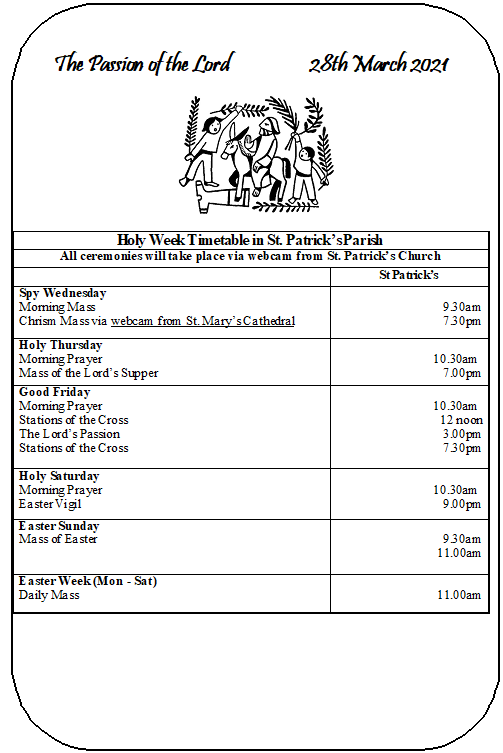 Palm Sunday
Today, we enter the holiest week of our liturgical year, celebrating in a very solemn manner the passion, death, and resurrection of our Saviour, Jesus Christ.
The Holy Week timetable for our parish is printed on the front of this newsletter. Please make time for at least some of the ceremonies and stations which will be celebrated during the week.
A good start would be to join via webcam from St. Mary's Cathedral, the Mass of Chrism at 7.30pm on this Wednesday, 31st March.
May this week be truly holy for you and may you experience that sense of wonder and gratitude that Christ made such a sacrifice, his very self, to Our Father, that we might, free from sin, serve him in holiness and justice all the days of our lives.
"Lord, by your cross and resurrection, you have set us free. You are the Saviour of the world."
Holy Week Ceremonies
The following ceremonies for Holy Week will take place via webcam from St. Patrick's Church.
Holy Thursday
Morning prayer - 10.30am
Mass of the Lord's Supper - 7pm
Good Friday
Morning prayer - 10.30am
Stations of the Cross - 12noon
The Passion of the Lord - 3pm
Stations of the Cross - 7.30pm
Holy Saturday
Morning prayer - 10.30am.
Easter Vigil—9pm.
Easter Sunday - 9.30am & 11am.
Easter Monday - 11am.

Parish Triduum Celebrations
We invite all members of our parish - young and old - to make an effort to join with us via webcam during the solemn celebrations of Holy Week and Easter. Young and old are invited to put aside just a little time on these special days to join our local Christian Community in commemorating the passion, death and resurrection of Jesus. Please go to www.stpatricksparishkilkenny.com and click on Webcam - St. Patrick's for each of the ceremonies.
Palm
There will be a limited amount of Palm available from the porches in St. Patrick's & St. Fiacre's Churches on Palm Sunday. Please make sure to sanitize your hands before and after taking some.

Pray for Our Deceased Friends
Recently Deceased
: Fr. John Hand, Dublin. June Dowling, Isle of Wight.
Months Mind
: Peter Maher.
Anniversaries
: John O'Sullivan. Lena McCarthy (Sun 9.30).
Anniversaries List
: Denis Murphy. Tess Burke. James "Jim" McGrath. Mary Delaney. Sheila Ramsbottom.
Birthday Remembrance
: Billy Wallace.
Solemn Easter Vigil
We particularly invite all parishioners to celebrate the Solemn Easter Vigil which begins at 9.00pm on Saturday evening April 3rd. This event, which is celebrated via webcam in St. Patrick's Church, should be the highlight of the year for those who believe that Christ died for our sins and rose again to save us from eternal damnation.

An act of Spiritual Communion
While some of us cannot receive communion at this time we can still make an act of Spiritual Communion in which we express our faith in Jesus and in his presence in the Eucharist and invite him to unite himself with us.
Act of Spiritual Communion
My Jesus, I believe that you are present
in the Most Holy Sacrament.
I love you above all things,
and I desire to receive you into my soul.
Since I cannot at this moment receive you sacramentally, come at least spiritually into my heart.
I embrace you as if you were already there
And unite myself wholly to you.
Never permit me to be separated from you.
(St Alphonsus de Liguori)
Holy Hour
The Holy Hour continues this Monday 29th March from 7-8pm via webcam from St. Patrick's Church. Many thanks to you all for joining with us each week during Lent.
St. Patrick's Parish Office
The Parish Office will close to the public on Wednesday 31st March at 5pm and reopen on Monday, 12th April at 9.00am. In the meantime priests will be available on 056 776 4400 or on their mobiles.
Clocks go forward
Don't forget, the clocks go forward by 1 hour this weekend. Summer time begins.
The journey of discipleship
Our opening reading from Mark's Gospel captures the elation of the crowds who welcome Jesus in Jerusalem. They spread greenery on the road in front of him, they lift their voices in praise, singing 'Hosanna! Blessings on him who comes in the name of the Lord!' But their hope and loyalty is short-lived, as we discover in our reading of the Passion. Jesus is left almost alone to face humiliation and death. His followers have heard his radical message of reversal and upheaval, but when it comes down to it, the challenge is too much. We are told 'they all deserted him and ran away'. While Peter follows Jesus at a distance, he is soon denying he even knows him. Soon, the crowds are shouting for Jesus to be crucified.
We are very familiar with the Passion Gospel and it can be tempting to allow ourselves to tune out, particularly when it comes to the unpleasant parts. We do not like to think of ourselves as part of the mob shouting 'Crucify him!' Yet if we enter fully into the experience, we can see ourselves in the story. When things are going well, it is easy to praise God and shout 'Hosanna!', and promise we will not lose faith. There are other times we fall asleep, become complacent. And then there are days when we struggle, when we are confused or do not know what God expects of us or whether we are able to handle the difficult times. We pull away from God. The different disciples display this range of human reactions and emotions. This week, Holy Week, we are the disciples walking with Jesus on a journey that leads to the cross. And yet here at the cross, we find Mary Magdalene and the other female disciples, and Joseph of Arimathaea. We know the story is not over for these disciples, or for Peter and the others. The journey of discipleship is just beginning.
'We don't have to be able to articulate all the logic of what is happening now. But Christians walk on with the conviction that there is One who does make sense of the apparent madness of shattered human dreams.' (Bishop Donal McKeown)
Tríona Doherty, Email
trionad@gmail.com
Parish Contribution Envelopes
The new contribution envelopes are ready and can be collected from the Parish Office. Any boxes that are not collected will be posted. Many thanks for your continued support.
Covid 19
Our Churches continue to remain open for private prayer during this time. Please continue to follow best practice when visiting our Churches: Sanitise hands on entering and leaving,: follow coughing and sneezing etiquette,: keep 2 meter social distance: do not congregate in or near Church grounds. Please continue to reduce touching of items when in the Church. Please be aware that face coverings are required when visiting the churches and the parish centre. If we all continue to do our bit then it keeps everyone safe and will ensure a quicker return to normality. Government and HSE policy dictates that Baptisms cannot take place under the present restrictions. Once restrictions are lifted then Baptisms in our parish will be able to resume. From the 3rd of January numbers allowed to attend weddings is reduced to six (6) and presently those attending funerals is reduced to ten (10). This includes the graveyard /cemetery.
Your adherence to these restrictions is appreciated.
Trócaire Family Fast Boxes
The time has come to return the Trócaire Family Fast boxes. Thanks to those who used the boxes during Lent to contribute to Trócaire's work in combating the global water crisis. They can be dropped into the Parish Office from 12th April.
Safeguarding Policy
St. Patrick's Parish values and encourages the participation of children and young people in parish liturgies and in activities that enhance their spiritual, physical, emotional and social development. We recognise and uphold the dignity and rights of all children and young people and are committed to their protection and support in a way that promotes their human dignity and integrity as children of God. Further details and information on posters in our churches and on www.patricksparish.com.

Humility, Love & Forgiveness - Palm Sunday Reflection
This Sunday, we gather to remember the passion of Jesus and to enter into its mystery. The story of Jesus' passion is filled with drama, violence and suffering. Yet, the key messages are about peace, love, humility and forgiveness. It is a difficult story for us to hear, and to journey through, but we cannot hurry through it; it slows us down as it unfolds. We hear the story today on Palm Sunday, and we hear it again on Good Friday. It draws us in, even when we would rather turn away, as we relive the shocking brutality that Jesus suffered. A shocking brutality, that is, sadly also evident in our world today, in places where life is not valued.
Jesus enters Jerusalem being hailed as a King and a hero – he had healed the sick, and raised the dead to life; normally a triumphant King, entering a city, would enter on a regal chariot with a stately stallion, flanked by soldiers in a victory procession. Jesus' entry was very different – he entered Jerusalem on a colt – the foal of a donkey. His followers laid palm branches before him as he made his way in. His entry was not one of flourish and flair – he entered Jerusalem in meekness and humility. The colt and palm branches are symbols of the peace that he offers to his people. His earthly beginnings were humble – born in a stable and laid in a manger. His final days on earth were also humble – the wood of the manger, replaced by the wood of the cross.
Jesus knew what awaited him in Jerusalem; betrayal, rejection and crucifixion. Yet, he entered willingly into it, enduring all of these on our behalf.
We encounter several examples of Jesus' betrayal in the story of the passion. The betrayal of Jesus by Judas shows us a man whose loyalty was undermined by his desire for money – he sold his loyalty to Jesus for 30 pieces of silver. He thought he could get a better deal by siding with the High Priests' soldiers.
Is there an element of Judas in us?
Do we sometimes stray away from the right path because we think that we might gain more in the short term by following an easier path?
A second example of betrayal is when Peter denies Jesus 3 times. Peter was one of the good guys yet when it came to the crunch, through fear, he denied that he knew Jesus – his human weakness overtook his honourable side in the moment.
Do we sometimes experience situations where we are paralysed by fear and find it difficult to make the right choice?
A third example of betrayal is when the crowd who welcomed Jesus with jubilation when he arrived in Jerusalem later turned on him to demand the release of Barabbas and to ask Pilate to have Jesus crucified.
Do we sometimes allow ourselves to be pulled along with the crowd instead of standing up and speaking out when we see an injustice?
There is a significant message of hope for us in the midst of all this betrayal – despite the fact that Jesus knew Judas would betray him he still chose him as a disciple. Despite the fact that Peter was not courageous enough to identify himself as a follower of Jesus, Jesus still chose him as the rock on which to build his Church. Despite the fact that the crowd turned against Jesus he still laid down his life for them.
The message for us is that God's love for us is so immense that he is always ready to forgive us and walk with us, guiding us in choosing the right path and helping us through the rocky patches. We are called to be steady in our trust of God, even when our hope is challenged. The passion is a clear reminder that even those that stumble are given the opportunity to be forgiven and continue to spread the good news; to be signs and bearers of God's love and compassion to those that we meet along our journey.
Rose O'Connor and Patrick Sullivan