Second Sunday of Advent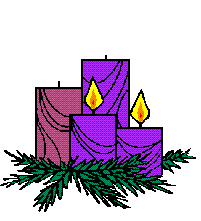 "Prepare a way for the Lord, make his paths straight, and all mankind shall see the salvation of God"
The Advent Wreath has become the most recognizable symbol of this season of preparation for the birth of Jesus. The colour purple signifies preparation and penance. We prepare for Christmas with penance so we can be liberated by Hope, Love, Joy and Peace, to truly celebrate the birth of Jesus. The evergreen and seed-cones represent new and undying life as the circle reminds us, life in God is without beginning or end. Eternal life, the glory of God!
Each candle on the wreath has its own meaning: First the Prophets candle, proclaims the Hope of the Messiah.
Second the Bethlehem candle, proclaims the Love of God made flesh.
Third the Shepherd's candle proclaims the Joy (Gaudéte) announced by the Angels to the Shepherd's. Fourth the Angel's candle proclaims the Peace of Christ. Fifth the Christ candle, proclaims Jesus, God-with-us!
The Prophets are re-echoed in the call of John the Baptist. The voice that cries in the wilderness. He brings to completion the Hope of the prophets. "John saw Jesus coming towards him, and said: This is the Lamb of God who takes away the sin of the world." "And a voice came from heaven, You are my Son, the Beloved; my favour rests on you."
"Jesus Christ, his only Son, our Lord, who was conceived by the Holy Spirit and born of the Virgin Mary." Born to Mary and Joseph in Bethlehem. God loves us so greatly that he became one of us and entered our ordinary life of family, to offer himself in our nature, as the sacrifice that takes away the sin of the world. To take away your sins. Remember God loves you this greatly and more. Loves you as you are, but not so that you remain as you are, but rather, to transform you to be like him. In his love, he has made the sacrifice for you. Open your heart in penance and prepare for him! Let our cry be, "Maranatha, Come, Lord Jesus!"
"And all humankind shall see the salvation of our God."
Fr. Roger O'Neill, Gorey,
www.thehookoffaith.com
Pray for our Deceased FriendsRecently Deceased
: John O'Rourke, Riverview. Josephine Stokes.
Months Mind
: Kay Doyle (Thurs 10.30).
Anniversaries
: Christine Comerford (Sat 6.15). Rena Brett (Sun 9.30). Eileen Gleason (Sun 10.00). Eddie Dunne (Sun 10.30). Michael O'Dwyer (Sun 12.00). Kay & Brian O'Reilly (Sun 12.30). James Mulrooney (Tues 9.30). Kitty Russell (Tues 6.15). Myra Treacy (Wed 11.00). Sean & Statia Cantwell (Sun 12.00). Thomas Dowling. Michael Muldowney. Paul Slattery. Michael Fitzmaurice. Christina Walsh. Finbarr Coughlan. Elizabeth Hayes. Annie Wall, Kathleen Wall. Rena Sheridan. Bess & Mick Delaney. Michael & Margaret O'Brien.
Intentions for next weekend: Peadar Barrett (Sat 6.15). Martin McCorry (Sun 9.30). Milton Americas (Sun 10.00). Michael Dollard (Sun 10.30). Mary O'Mahony (Months Mind Sun 12.00). Tom Downey (Sun 12.30).
Holy Hour
Advent - a time of preparation for Christmas, a time of prayer. For the season of Advent, a holy hour will take place in St. Patrick's Church with exposition of the Blessed Sacrament, reflection on the word of God, rosary and benediction. Continuing this Wednesday and each Wednesday night during Advent. The Holy Hour can also be viewed by webcam on www.stpatricksparishkilkenny.com.
Feast of The Immaculate Conception
Wednesday is the feast of the Immaculate Conception and is a holy day of obligation. Mass times are as follows:
Tuesday 7th - 6.15pm in St. Fiacre's.
Wednesday 8th - 10.00am in Foulkstown, 11.00am in St. Patrick's and 12noon in St. Fiacres.
Welcome
We welcome the children from St. John of God Girls School, St. Patrick's De La Salle, Gaelscoil Osraí, KSP to all of our Masses this weekend as they continue their preparation to receive the sacrament of Reconciliation and First Eucharist. We wish them well in their preparations.
Keep up the good work!!
Prayer Wall
We invite you to include your intentions and prayers on our Advent prayer walls located in the churches. All will join in praying for your intentions during the season of Advent.
Christmas Mass Bouquets
Christmas Mass Bouquets, offering the recipient a share in the Christmas Masses celebrated by the priests of our parish, are available at the reception in the Parish Centre. The cost is €3.00 per card.
Young persons prayer for Guidance
Lord may I work with you in a spirit of trust, together building a vision for my life. Open the doors of my heart to allow you to come & speak to me.
My I take time to connect with you, my self, and others so that the road ahead becomes clearer. Help me to be amazed by you & know that you are amazed by me. May I find time to think and explore the bigger questions, always willing to learn about you and how I relate myself and to others.
No matter what happens may I imitate you and be an instrument of your Love and Compassion.
Give me the generosity of spirt to offer all that I am in the service of my sisters and brothers.
Guide me along the right path, showing me how to navigate the course of life and discover my true destination, my true identity, my mission on this earth. Amen
Thought for the day
"With God, all things are possible" Matthew 19:26
Pope's Intentions - December
We pray for the catechists, summoned to announce the Word of God: may they be its witnesses, with courage and creativity and in the power of the Holy Spirit.
St. Vincent de Paul Society
The National Christmas Collection for the St. Vincent de Paul takes place on Sunday 12th December. Like last year, due to the Covid 19 pandemic there will not be a church gate collection. If you want to contribute to the collection, put your offering in an envelope, mark it SVP and drop it into the parish office. We will make sure that they get it. Also, a visa tap facility will be available in the Parish Centre for anyone who would like to contribute electronically. Thank you for your continued support. The society can be contacted on 087 381 0589 or drop a letter into the Parish Office.
St. Mary's Cathedral Draw
The next draw takes place on Wednesday 15th December. Please have you subscriptions into Fr. Roderick by Monday 13th December. Thank you for your support.

Data Protection Officer - DPO
(Diocese of Ferns, Kildare & Leighlin & Ossory)
This will be a 3 year Part-Time Fixed Term Contract. (16 Hours). Further information and application procedure available at ferns.ie, kandle.ie and ossory.ie. Closing date for applications by post on or before 10th December 2021 to: Ossory Diocesan Office, James Street, Kilkenny, R95 NH60. Email: admin@ossory.ie. Phone 056 776 2448. The Dioceses of Ferns, Kildare & Leighlin and Ossory are equal opportunity employers. Canvassing will disqualify.